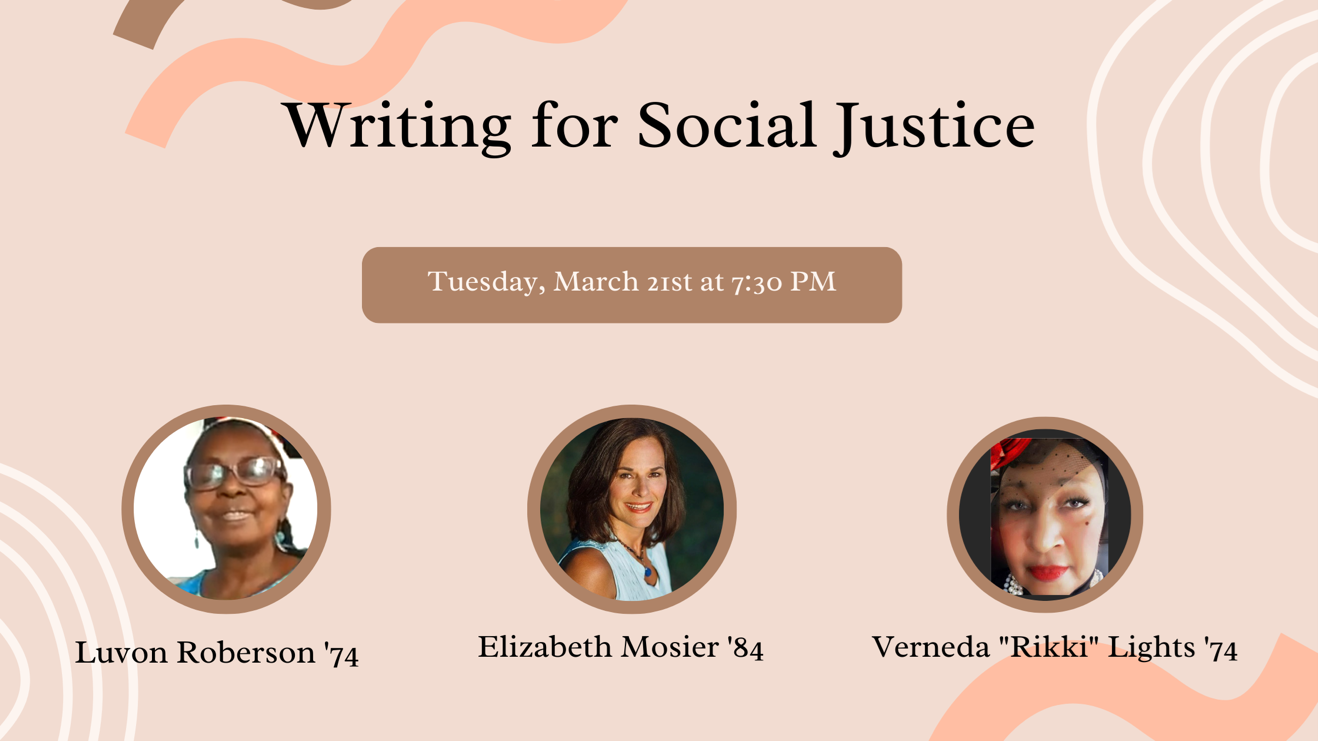 Join us on March 21st for a riveting hour and a half special with Luvon Roberson '74, Verneda "Rikki" Lights '74, and Elizabeth Mosier '84, as they reflect on a time of storytelling that features Bryn Mawrters from start to finish.
These three influential women share how the Riverside Writing Group series on "Writing Memoir & Justice," is one of those experiences that sprung from Mawrter inspiration, draws from the historic social justice legacy of Riverside Church in New York City, and that sparked Mawrter creativity — as well as 21st century NFT and AI storytelling.
The series, led by two writer-Mawrters and inspired by Marcia Cantarella '68 and her memoir "Recognize & Give Thanks," tapped the august Riverside Church Archives, attracted several alumnae from across the nation, and ignited memoir justice writing, which is available in our published anthology.
For more information about the Riverside Writing Group, visit:
https://www.trcnyc.org/riversidewritinggroup/
Luvon Roberson '74. After 30 years as Marketing Communications executive for Fortune-50 companies, she now defines herself as a Writer – of poetry, memoir, ethnographic fiction, narrative performance – fueled by word as social justice. She holds degrees from Bryn Mawr College, University of London, and Columbia University, and tweets @LuvonRwriter. Luvon founded Riverside Writing Group in 2021 to build a community of justice writers. Her current accolades include Equinox 2021's Prize for Prose for Sweet Yam Weather (14) and an Honorable Mention for her poem BLACK GIRL JUNE MEMORIES DONE BEEN CHANGED (18). Currently, she is working on Mississippi Sanctifyin, a memoir-collection of multi-genre writings about her family's sharecropping experience and their legacy.
Novelist and essayist Elizabeth Mosier '84 taught creative writing at Bryn Mawr College and elsewhere for more than twenty years. Her most recent book is Excavating Memory: Archaeology and Home which was featured at a previous Bryn Mawr Club of NYC event.
Verneda "Rikki" Lights '74 is a visual artist/ photographer, published poet, historian, physician (retired), and griot of South Carolina's Gullahgeechee Nation. She is a graduate of Bryn Mawr College, University of Pennsylvania Perelman School of Medicine (MD), Strayer University (MBA), and holds a certificate in International Arts Management from Deusto University School of Business, NYU Steinhardt School of Culture, and Guggenheim Bilbao. Her exhibits include: the Whitney Biennial, The Wrong Biennial, Woman Made Gallery, Albrecht-Kemper Museum, Edward M Kennedy Institute, Harlem Fine Arts Show, Southampton Arts Center, M.A.D.S. Galleries in Milan and Canary Islands, and La Pedrera in Barcelona. Verneda is founder and CEO of E-graphX Omnimedia, an art house, design firm, and business consultancy, located in Port Royal, SC. A member of her class' fundraising team, Verneda created the Bryn Mawr Collection to help the Class of '74 raise funds during the pandemic. She can be reached at her LinkedIn, Instagram, Twitter, YouTube, Facebook, Google Scholar, and Jennylights Designz.
 WHAT: Writing for Social Justice with Luvon Roberson '74, Elizabeth Mosier '84 and featuring Verneda "Rikki" Lights '74
WHEN: Tuesday, March 21st, 2023 at 7:30 PM
WHERE: Register ONLINE HERE.
HOW MUCH: $20. Guests welcome.
FOR FURTHER INFORMATION: Contact Helen at hthurston77@earthlink.net.