August 28, 2017
Hi Mawrtyrs! We're back from a brief summer vaca – Hope you've been having a wonderful summer and enjoying these "mild" August NYC temps.
We're happy to be kicking off the 2017-2018 school year with Anjali Shenoy Dahiya, from the Class of 2004, who was kind enough to host the NYC Send-Off Party at her office. We loved meeting members of the Class of 2021 and their families, and hope they're all getting excited for classes to start. Surely, many of us wish that we were back in their shoes!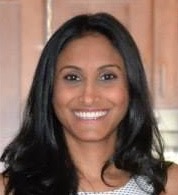 During her time at Bryn Mawr, Anjali Shenoy Dahiya majored in Political Science. Currently, she's the Associate General Counsel at AppNexus Inc., an advertising technology company, where she's responsible for commercial and privacy matters. In her own words, here's Anjali's story:
I got here by, first and foremost, being incredibly lucky to be born to my parents and to have their and my family's support – I would likely have far less if they had not given me a wealth of opportunity. Second, by always being open to new and unexpected opportunities and following my instincts. Third, by recognizing that my career is not the whole of who I am. For some people, their work is the defining feature of their lives, and that is great. For me, my work is a part of my life and a part of who I am, but it does not define me.
I dream of someday showing my children the many corners of this world.
In my spare time, I hang out with my daughter, husband, family and friends, read, and travel.
I wish I had more time to travel around the country and the world, and more time to spend with my daughter.
What I love most about NYC is the sheer number of possibilities each day brings. And the people watching.
My time at Bryn Mawr taught me to be open to new opportunities and to be willing to veer off the path I'd envisioned for myself when I was younger.
My advice to the Class of 2021 is explore everything that you think may fill you with joy; pursue the paths about which you are curious; develop interests and passions – these are what make you interesting in the real world. But most importantly, make time for friends and relationships and the life that is lived outside the classroom – in 10, 15 and I'm sure 20 years from now, most of you will not remember the books you read for class, but you will remember the memories you made with your classmates and friends. Oh, and study abroad, particularly if you can go somewhere completely outside your comfort zone.
My advice to the Class of 2017 are three things: 1) if you spend all your time looking for yourself, you will never have time to enjoy the self you are right now – live in the right now; 2) find what makes you happy, whether through work or during your personal time, whether with friends or alone, and do that thing, and remember what makes you happy doesn't have to be big – simple joys are what make a life worth living; 3) travel, as much and as far as you can – to far flung places and places about which you know nothing. Your life will still be here when you come back, but hopefully you will be changed.
If anyone is interested in connecting with me, email at ashenoy82@gmail.com.