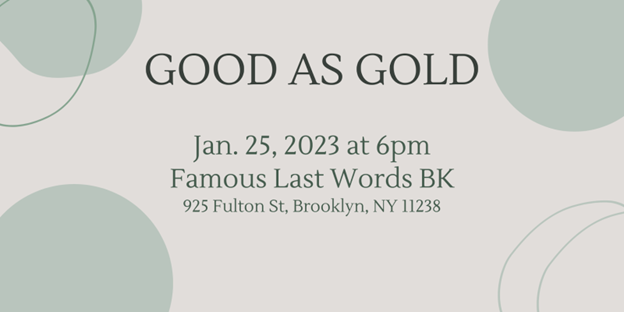 More than half of all New Year's resolutions fail according to this NYTimes article.  If you're one of these people (like me) who struggle to get out of bed at 5 AM to go to the gym before work, you're out of luck – this event won't help you.  But it can help you make new friends or reconnect with old!
Come share your New Year's Resolutions with us (or don't – maybe that's your resolution) at the Bryn Mawr Club's first monthly happy hour of the year.  We'll meet at Famous Last Words in Brooklyn at 6 PM.  First drink is on us.  And if your resolution is to drink less this year…well, come anyways!
Who knows, maybe you'll find a gym buddy.
WHAT: Good as GOLD: Happy Hour, hosted by Mina Bansal '17 and Jill Li '18
WHEN: Wednesday, January 25th, 2023, 6:00 – 7:30 PM
WHERE: RSVP HERE. Located at Famous Last Words (925 Fulton St, Brooklyn, NY, 11238)
HOW MUCH: Free – first drink on the Club