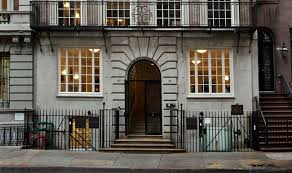 THIS EVENT IS SOLD OUT!!!
Join the Club for a tour of the Roosevelt House with Curator Deborah Gardner '70. The former double residence house of Franklin, Eleanor and Sara Delano Roosevelt, now owned by Hunter College, offers visitors an opportunity to get closer to a family as unique as the city they inhabited, and to explore where some of the most iconic public policy of the 20th century was shaped. The exhibit Women Take the Lead: From Elizabeth Cady Stanton to Eleanor Roosevelt, Suffrage to Human Rights shows original and important treasures from the Women's Suffrage Movement, some unseen for a century. It features about 75 rare posters, broadsides, pamphlets, books, and manuscripts that were actually used in the early 20th Century to promote voting rights for women. We will have the unique pleasure to be joined by Ms. Grania Gurievitch, whose family was close to the Roosevelts and who will share her personal reminiscences of Mrs. Roosevelt. This event was made possible by Dorothy Samuels, '73, who serves on the External Advisory Board of the Roosevelt House and is a Senior Fellow at the Brennan Center for Justice.
Total cost for admission and the tour is $20.00. You may preregister via PayPal below, or pay at the door.

For more information about the house and exhibit, visit: http://www.roosevelthouse.hunter.cuny.edu/rh-news/women-take-the-lead.
THIS EVENT IS SOLD OUT!!!
Register by PayPal: