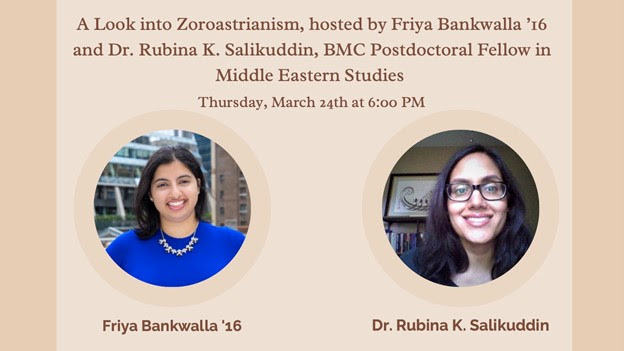 Did you know…?
Mozart's The Magic Flute was inspired by Zoroastrianism?
Zoroastrianism is considered to be the oldest religion?
Zoroastrianism was considered the first monotheistic religion?
Many concepts from Zoroastrianism are found in other religions?  
Freddie Mercury (the lead singer of QUEEN) was a Zoroastrian?
Please join the Bryn Mawr Club of New York City on Thursday, March 24th for an enriching and informative evening on Zoroastrianism. Together, Friya Bankwalla '16 and Dr. Rubina Salikuddin, BMC Postdoctoral Fellow in Middle Eastern Studies, will delve deeper into the rich historical development of Zoroastrianism, review the religion's impact on society in art and objects, explore myths and facts about the religion, and explore one of its most significant holidays, Navroze, and coming-of-age traditions, the Navjote.
Friya Bankwalla '16 graduated from Bryn Mawr College with a Bachelor's in English and Psychology, a rekindled interest in tennis and horseback riding, an insatiable passion for storytelling, and a desire to champion Zoroastrianism. Her creative background ranges from working at Penguin Random House, to promoting picture book to young adult New York Times Bestsellers, to screening and adapting intellectual properties for television at an independent film and television company, to much more. When she's not reading, this Bryn Mawr Club of NYC Board Member can be found welcoming newcomers to the city, hunting for her next favorite restaurant, and searching for new narratives.
Dr. Rubina Salikuddin is a BMC Postdoctoral Fellow in Middle Eastern Studies. She is a scholar of the social and cultural history of medieval Iran and Central Asia. Her current research focuses on ideas of memory and community in the 15th C. Timurid domains. She has a Ph.D. from Harvard University as well as a Bachelor's from Ohio State University. Currently, she is completing her Postdoctoral fellowship at Bryn Mawr College and in the fall will teach as the Assistant Professor in Middle Eastern Studies at the college. In her spare time, she loves cooking, spending time with her two children, and learning how to garden. For more information about Dr. Rubina Salikuddin, click here.
WHAT: A Look into Zoroastrianism, hosted by Friya Bankwalla '16 and Dr. Rubina K. Salikuddin, BMC Postdoctoral Fellow in Middle Eastern Studies
WHEN:  Thursday, March 24th at 6:00 PM
WHERE: Please RSVP HERE. A Zoom Link will be provided upon registration AND on the day of the event.
HOW MUCH: Free.
FOR FURTHER INFORMATION CONTACT: Friya Bankwalla at fabanks@gmail.com