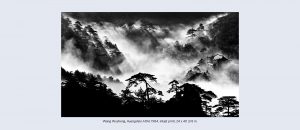 Enjoy a private docent led tour of the exhibition: Art of the Mountain at The China Institute Gallery. This event will be hosted by China Institute Trustee Yvonne Wong '62, and we will be greeted by Gallery Director Ms. Willow Hai before our tour. The beautiful exhibition explores how mountains have played a crucial role in Chinese culture and legends; they are considered to be the pillars that hold up the sky. This exhibit, which displays more than 60 photographs by 25-odd photographers, is split into three sections: Lofty Mountains covers the geography, history, legends and cultures associated with famous Chinese mountains; Pure Sound encompasses the impact of Chinese landscape painting on contemporary photography; and New Landscape Photography expands beyond photography to post-photographic visual effects that examine the role of mountains in society.
The China Institute & Gallery is a cultural institution that hosts diverse programming including art exhibitions, performing arts, film, lectures, culinary circle, corporate programs, school of Chinese language and culture. The Gallery is New York's only noncommercial exhibition space dedicated solely to Chinese art and internationally renowned for its authentic, authoritative first-class thematic exhibitions in such areas as calligraphy, painting, ceramics, bronzes, decorative art, folk art, architecture, photography, textiles and contemporary art, covering 5,000 years of Chinese history. China Institute is a unique opportunity for visitors to appreciate traditional and contemporary Chinese art and culture.
Click here to RSVP. Space is limited.
Guests are welcome.
For questions, contact: Leila Ghaznavi '01 – leilag@gmail.com
WHAT:          Docent led tour at China Institute Gallery – Art of the Mountain
WHEN:          6:00 PM, Wednesday, July 10, 2019
WHERE:       China Institute Gallery, 100 Washington St, New York, NY 10006
HOW MUCH:           $20