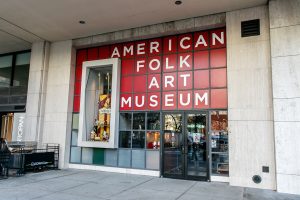 A private tour of Made in New York City: The Business of Folk Art led by Elizabeth V. Warren '72, a trustee of both the American Folk Art Museum and of Bryn Mawr College.  This is a special opportunity to see an important exhibit with the curator who designed it!
Folk art has flourished in the heart of New York City since the eighteenth century.  Many of the objects associated with the American heartland were actually manufactured and used in New York City by artists and artisans.  In the tradition of self-taught artists around the world, they learned their skills by joining family businesses, apprenticing to masters, or by teaching themselves the expertise needed to produce pieces considered among the core expressions of American folk art.  The exhibition draws on the collections of a number of New York City museums, including the American Folk Art Museum, The New-York Historical Society, and historical societies and museums in all five boroughs, as well as private collections.
There will be a reception with wine and light nibbles following the tour.
Click here to RSVP. Registration is limited.
Guests are welcome.
For more information visit:   https://folkartmuseum.org
For questions, contact:   Rebecca Hahn '07, beckyhahn1@gmail.com
WHAT: American Folk Art Museum tour of Made in New York City
WHEN: Wednesday, June 12, 5:30-7pm
WHERE: American Folk Art Museum:    2, Lincoln Square, Columbus Avenue at 66th Street
HOW MUCH:           $20 for the tour.
Guests welcome