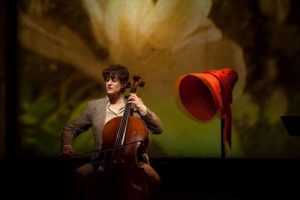 About the Show:
ThisTree weaves together a poetic narrative of Leah's family history and her own struggle to start a family, with her blues, rock, and non-traditional cello singing and playing. Accompanied by an all-female band and surrounded by a lush video design, the piece is moving and poetic. Leah is also the first artist to benefit from HERE's new Fund for Women Artists to give women artists additional support as they mount a full production on our stages.
About the Artist:
"Leah Coloff, accompanying herself on the cello — first with a pizzicato figure, then with a quick, repeating arpeggio — sings "The Soul Selects Her Own Society" with a combination of artful angularity and a rock inflected assertiveness."— Allan Kozinn, The New York Times
About HERE:
Home to New York City's most imaginative live performance experiences, HERE produces work that is affordable, challenging and alternative. We give audiences the chance to be part of something new and fresh. Our artists work across disciplines, disrupting conventional expectations as they cast new molds of collaborative works. This eclecticism makes HERE undefinable at its core, and entirely unforgettable. HERE is proud to have Bryn Mawr alum Jennifer Suh Whitfield '98 and Chair Bethany Haynes '98 as leaders in our community.
WHAT: An evening at HERE and Leah Coloff's ThisTree, a world premiere in the 2019 PROTOTYPE Festival.  We will be joined by HERE Chair Bethany Haynes '98.
WHEN: Friday, January 11, 7:30 PM Curtain.
WHERE: 145 Sixth Avenue, Entrance on Dominick Street, one block south of Spring Street
HOW MUCH: $75, $45 and $30
To RSVP and arrange tickets, please contact HERE's Manager of Individual Giving and Special Events, Auburn Hicks at 212-647-0202, ext. 327 or auburn@here.org
Tickets are limited — so RSVP soon!