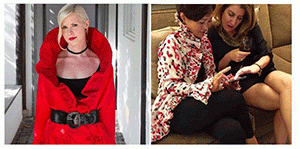 What better way to celebrate the holiday season than to stop by on a winter's day at the Seven Sisters Holiday Party, hosted by The Bryn Mawr Club of New York City. You are cordially invited for champagne, wine and light refreshments at the gracious Park Avenue and 64th Street apartment of our hostess, Gurdon Metz. Check out the festive Park Avenue holiday decorations and then gather with your fellow alums and relax in the warmth of the camaraderie of the Seven Sister community.
While partying and socializing, you will be able to browse and purchase the beautiful silk fashions of Richard K. Tsao as featured and sold at MoMA, Metropolitan Opera, and Asia Society. Each of Mr. Tsao's handcrafted pieces are artisanally woven from Thai silk, blending rich jewel tones with tropical hues to create fashion masterpieces that embrace style and fun. Additionally, the talented Mr. Tsao will be present to consult on the best fit and to answer all questions about his collection.
Party, socialize, relax and shop all at once with other festive Seven Sister alums. A portion of the event's proceeds will be donated to scholarship.


RSVP: Register online. Friends and family are welcome.
WHEN: Sunday, December 15, 2019 from 11:30 AM to 4:30 PM.
WHERE: At the lovely home of Gurdon Metz '52 on the Upper East Side.
HOW MUCH: Free Admission. Specially Discounted Prices on Richard K. Tsao fashions.