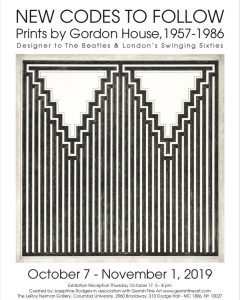 Join curator Josephine Rodgers '01 for a behind-the-scenes tour of Columbia University's working state-of-the art LeRoy Neiman Center for Print Studies and the exhibit New Codes to Follow: Prints by Gordon House, 1957-1986​.  Opening reception to follow.
The exhibition considers the career of British artist Gordon House (1932–2004) through a focused survey of the artist's screenprints, etchings, and lithographs. Breaking boundaries between typography and fine art compelled House to collaborate with artists—including Peter Blake and Richard Hamilton—when designing album covers for the Beatles and establishing his reputation in 1960s. A key group of prints from this period will be on display in New York City for the first time.
RSVP to Josephine Rodgers  at   jodiwrodgers@gmail.com
For more information visit:
https://arts.columbia.edu/events/new-codes-follow-prints-gordon-house-1957-1986
http://www.columbia.edu/cu/arts/neiman/
For questions, and to RSVP, contact:  Josephine Rodgers '01,  PhD at  jodiwrodgers@gmail.com
WHAT: LeRoy Neiman Center for Print Studies Gallery and Studio Tour of Gordon Exhibition. Opening Reception Following
WHEN:  Thursday, October 17, 2019, 4:00 – 5:30 PM
WHERE:          Gather at ground floor gallery
Dodge Hall
Columbia University
2960 Broadway
New York, NY 10027
http://www.columbia.edu/cu/arts/neiman/contact.html
West Side, take No 1 Subway or No. 104 Bus to 116th Street
East Side, take the No 4 Bus to Broadway and 116th Street
HOW MUCH:   Free!  Guests welcome.