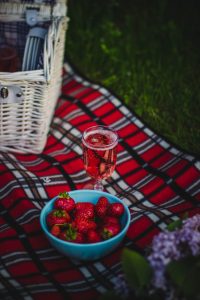 THIS EVENT IS NO LONGER ACCEPTING RESERVATIONS
Join us for a festive family friendly May Day celebration! Hosted by Bryn Mawr Club of NYC board member Leila Ghaznavi, '01, this celebration will start with a picnic in Central Park featuring strawberries and cream, sparkling cider, apple juice, and other delicious treats. Gather at 1:00 PM at the Heckscher Playground in Central Park. Please note that seating is limited in the park so a picnic blanket is suggested!
The fun continues with a short jaunt to Carnegie Hall to enjoy Carnegie Hall's Family Concert: My City, My Song. In this kid focused performance vibrant New York City–based artists create a colorful, participatory experience that provides children with the opportunity to discover music from different parts of the world that can be found right in their own city. Brianna Thomas sings jazz standards, father-daughter duo Juan Gutiérrez and Julia Gutiérrez-Rivera (with fellow musicians from Los Pleneros de la 21) share the percussive rhythms of Puerto Rican bomba and plena music, and Fabiana Masili brings the spirit of Brazil's Carnival. 
Free pre-concert activities take place in Zankel Hall one hour before the performance, and will prepare you and your child to sing and dance along with the artists. So we will leave Central Park to be at Carnegie Hall by 2:15 to take part in the festivities!
For ages 4–10. Younger children may join for picnic but the concert may not be to their taste.
WHAT:  Bryn Mawr Family May Day Event!
WHEN:  Saturday May 11, 2019 at 1:00-4:00 P.M.
WHERE: Central Park/Carnegie Hall
HOW MUCH:
$25 – Concert and Picnic per Adult.
$12 – Concert and Picnic per Child
$15 – Picnic only per Adult
$12 – Picnic only per Child
RSVP: Register ONLINE
EVENT TIMELINE:  1:00 Meet at Heckscher Playground in Central Park
(Mid-Park from 61st to 63rd Streets)
2:00 leave Picnic area for Zankel Hall
2:15 Zankel Hall pre-concert activities
3:00 My City My Song concert in Carnegie Hall's Zankel Hall
FOR FURTHER INFORMATION CONTACT:  Leila Ghaznavi '01 at leilag@gmail.com