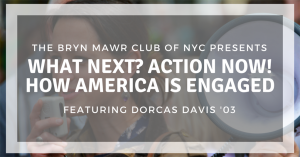 Scenes from the Event: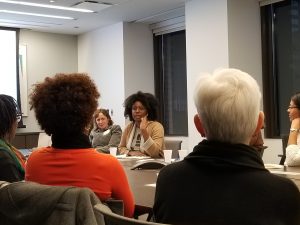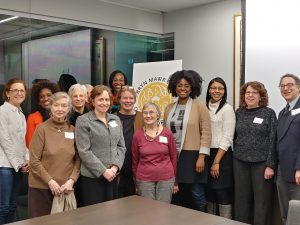 Whether you turn on your TV, look at social media or open a newspaper, it is clear that this nation is in a moment of mass action. In this past year alone, millions have come out in protest – many for the first time. Join us for a dialogue about American activism today with March for Racial Justice co-founder and co-chair Dorcas Davis, '03. We will learn more about the March for Racial Justice and the journey of building a national march. In addition, we'll discuss the integral part activism and organizing plays in our discourse and the multitude of ways people become involved in causes they support. This is a non-partisan and non-political discussion focused on racial and social justice — which includes women's rights.
About Dorcas Davis '03
Dorcas Davis '03 is the National Director of Strategic Projects for the Posse Foundation* and the Co-Founder and National Co-Chair of the March for Racial Justice (M4RJ).
Since 2001, when President Emeritus Nancy J. Vickers initiated Bryn Mawr/Posse Foundation partnership, Posse students from Boston, and recently from Houston, have benefited from the excellent Bryn Mawr education, in addition to bringing energy and diversity to the campus community.
Presently the National Director of Strategic Projects for the Posse Foundation, Dorcas Davis is an activist, facilitator, educator, writer and artist. While a studying at Bryn Mawr, Dorcas was part of the selection team that chose Bryn Mawr's first Posse. She has worked locally, nationally and internationally, consulting for organizations devoted to equity and social change through capacity-building, training, dialogue and education. At the core of her life and work is a commitment to community, our shared liberation and future.
Dorcas began her call to activism as an advocate for students and parents while working as a teacher and facilitator. Her call to activism was heightened after her father was assaulted by police officers. She co-founded the March for Racial Justice as a response to the racial inequity and injustice in the US justice system.
The March for Racial Justice saw tens of thousands of people gather in Washington, DC, New York and 16 other locations across the US. The march was in direct response to the not guilty verdict rendered in the June 2017 trial of Philando Castile in Minnesota. The March for Racial Justice holds firm that the human and constitutional rights of all people should be upheld and affirmed.
She is also the Founder and was Executive Director of Smiling Down Productions – an arts and education company. She is a proud graduate of Bryn Mawr College and has a Masters in Applied Theatre from the City University of New York – School of Professional Studies.
* The Posse Foundation identifies public high school students with extraordinary academic and leadership potential who may be overlooked by traditional college selection processes. The Foundation extends to these students the opportunity to pursue personal and academic excellence by placing them in supportive, multicultural teams—Posses—of 10 students. The Foundation's partner colleges and universities award Posse Scholars four-year, full-tuition leadership scholarships. With a Posse partnership since 2001, Bryn Mawr College is proud to have hosted the very first women's STEM (science, technology, engineering, and mathematics) Posse in the fall of 2013.
WHEN: Thursday, April 5, 7:00 – 9:00 p.m.
WHERE: WNET, The Kellen Board Room of Channel 13, 825 8th Avenue @ 50th Street
COST: $20 per person. Light refreshments will be served.
RSVP by registering online.
For questions, contact Helen Thurston at jclosk@earthlink.net.