IMPORTANT UPDATE:
Sadly, this show will be closing before the original date for which we secured tickets.
We have obtained tickets for Thursday, June 27, which can be purchased below.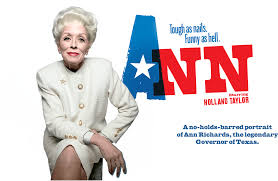 The Bryn Mawr Club of New York City has secured a very limited number of tickets to see this funny, heartwarming and fascinating play about the Ann Richards, the legendary late Governor of Texas that is acted by the Tony-Award nominated actress Holland Taylor.
Please join the Bryn Mawr Club of New York City for our summer theater outing to see Ann – The Ann Richards Play. Ann takes a revealing look at the impassioned woman who dedicated her life to enriching the lives of her constituents, friends and family. The play runs two hours with one intermission.
WHEN:   Thursday, June 27, 2013, 6:30 ticket pickup outside box office for a 7:00 curtain. Look for alumna with Bryn Mawr Club sign. Tickets for latecomers will be left at box office.
WHERE:    Lincoln Center Theater – Vivian Beaumont Theater
150 West 65th Street, Between Broadway and Amsterdam
New York, NY 10023
HOW MUCH:    $105 per ticket, which includes a $20 donation to the Bryn Mawr Club of NYC
R.S.V.P.:   Please purchase tickets via PayPal: